With competition in the marketplace stronger than ever, connecting with the world's brightest and most influential Key Opinion Leaders is paramount. As a result, Vision2Voice is proud to offer KOL Connections – a comprehensive solution that is designed to identify, recruit, manage, and maintain relationships with Global, National, and Regional KOLs. We'll work with the strategy you've created and deliver the KOL interactions you need to promote your brand. With KOL Connections, KOLs from every therapeutic area are at your fingertips.
KOL Connections® Offerings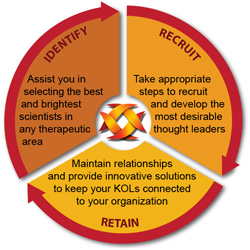 Identifying the right KOLs is the foundation for a promotional medical education program with impact. The main drivers of a successful program are identifying and recruiting key thought leaders and retaining them within the organization through relationship building and maintenance. Whereas this process of medical education effectiveness has remained constant over the years, the strategies and tactics to effectively improve upon each step have evolved with technology. Vision2Voice uses customized solutions that incorporate social media, to identify, retain, and recruit the top KOLs.
For more information on our KOL Identification Mapping, please Contact us
Advisory Boards are a critical component of a successful market-shaping strategy because they allow a look into the minds of true thought leaders. Content is typically driven by current business needs to glean insights from KOLs on new or upcoming product data, clinical application, research gaps or other life-cycle management decisions. V2V is a strategic partner that will consult with you to create a relevant agenda that meets objectives. Utilizing our strong KOL relationships helps our clients to identify and help recruit KOLs. V2V will manage your advisory board, whatever the size or scope.
For more information on our Advisory Boards, please Contact us
Speaker Training is an absolute must to ensure your speakers are delivering consistent, accurate, inspiring messages to community healthcare providers. They include a comprehensive overview of all product data, slide kits (both disease state and branded), and other life-cycle management information
We recommend at least two solutions for Speaker Training meetings
Live Training

Live Speaker Trainings are an essential component to your company's message. As an essential component, V2V handles these programs in a comprehensive manner. We do it all. From developing agendas that are interactive for speaker - to managing all KOL faculty, meeting planning, audio, video, and travel. V2V creates impressive speaker trainings that are unforgettable.

On-Line Training

Face-to-face live training is the best format of training, but due to budget, travel, and time constraints is not always an option. And your contracted speakers need options because training is a requirement. Whether it's teaching about product information or on how to utilize the core slide decks, V2V's on-line formats revolutionize your educational program. V2V's innovative approaches to on-line speaker training will keep your speakers engaged and learning more so they can better support your mission.
For more information on our Speaker Training, please Contact us .
At V2V, we pride ourselves on developing unique new approaches for speaker portals and managing content. The V2V Speaker Portal (V2VSP) is a custom solution that allows speakers to build their presentations using the most current, compliant slides that are approved for speaker use. The custom V2VSP is password-protected, only accessible for pre-approved speakers to manage all of your content in one central location. In three easy steps, speakers can customize their presentations, preview and select the slides or mini-decks, and download the custom presentation. Speakers want a user-friendly, straightforward, online resource to access their speaker materials. This program is rich in support, yet simple for speakers to use. Let V2V manage all aspects of your Speakers Bureau.
For more information on our Speaker Portal Management offerings, please Contact us .