Vision2Voice Recieves the 2014 BBB Integrity Award
October 13, 2014
by Daniel Rehal
OMAHA, NE – October 7, 2014 – Vision2Voice was awarded the 2014 Better Business Bureau Integrity Award in Omaha, NE at the Embassy Suites in Omaha –La Vista Conference Center on Tuesday, October 7, 2014. These awards focus on demonstrated ethical business practices with key stakeholders including customers, employees, and the community at large, rather than a company's growth, profitability, or popularity. The Integrity Award winners were chosen by an independent panel of judges consisting of Omaha business leaders and members of the academic community.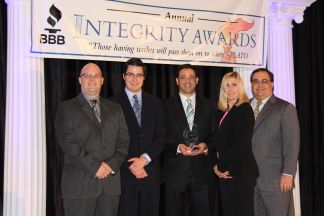 As a partner with pharmaceutical, biotech, and medical device companies to promote the latest in vital medical advances, ethics and integrity are central to V2V's core mission of improving patient care." The company President Dan Rehal stated, "Acting with honesty, empathy, trust, respect, and dedication, leads to the most successful delivery of medical content to healthcare professionals. On behalf of our clients, Vision2Voice's goal is for physicians to have improved knowledge and therefore be able to better diagnose and more effectively treat patients. The company values that its work ultimately leads to better patient care".
"The BBB Integrity Award Winners have shown that ethics and integrity are core values of their organization," said Jim Hegarty, president and chief executive officer of Better Business Bureau, Inc. serving the Great Plains Region. "The 2014 BBB Integrity Award winners join an elite group of organizations that realize dealing fairly and honestly with employees, customers and partners are central to profitability and growth."
---
About the Author

Daniel J. Rehal, President of Vision2Voice, thoroughly understands the pharmaceutical industry from the ground floor up. By ascending the ranks at Merck to his global responsibilities at Takeda, Dan has significant experience in both marketing and sales roles supporting a multitude of pharmaceutical brands as an award-winning Sales Representative, Training Manager, District Manager, Senior Product Manager, and Marketing Director.
Other Posts You Might be Interested In
No Articles Found...
Comments
Leave a comment