The Great Ebola Vaccine Race
March 25, 2015
by Daniel Rehal
Ebola Vaccines,Pharmaceutical Technology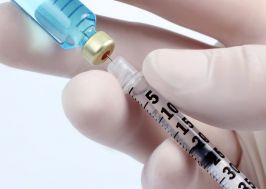 Facing one of recent history's most devastating epidemics, pharmaceutical companies around the world have been racing to develop a vaccine for the deadly Ebola virus. Research & development teams have worked at an unprecedented pace to be the first to develop a vaccine for a virus that has already claimed 10,459 lives globally.[1] Health officials are more confident than ever in their ability to contain Ebola, but a vaccine is still desperately needed to control the spread of the virus. Although many formulations of an Ebola vaccine are in development, we have assembled a list of the 4 most promising vaccines to look out for in 2015:
VSV:EBOV
Merck, NewLink Genetics, & The Public Health Agency of Canada
Originally developed by the Canadian government, this formulation has completed phase I trials. It was fast-tracked to skip phase II trials and begin phase III testing in Liberia and Sierra Leone in early March.[2] The vaccine was derived from an animal virus that was combined with a portion of a protein that covers the Ebola virus.[3] As such, when this vaccine is given, it elicits an immune response to Ebola without exposing the recipient to the Ebola virus. Although the Canadian government is responsible for the research behind this formulation, its exclusive marketing rights were obtained NewLink Genetics, who sold them to Merck in 2014.[4]
cAd3-EBO
GlaxoSmithKline & The United States National Institute of Allergy & Infectious Disease
cAd3-EBO is unique because it can be adapted to protect against either of the two strains of Ebola. It combines a chimpanzee cold virus with genetic material from either the Ebola Zaire-Guinea or the Ebola Sudan virus, so it is versatile in its application. The two formulations of this vaccine showed promising safety results in its 2014 phase I trials, but several studies are required to demonstrate that they are effective in protecting the body from Ebola. However, all 20 of the initial test subjects that received the vaccines developed antibodies for at least one of the two strains of Ebola,[5] and larger scale testing in Africa is likely to begin in the near future.
Ad26-MVA & MVA-EBOV
Janssen Pharmaceutical Companies (Johnson & Johnson Subsidiary) & Bavarian Nordic
This vaccine combines elements of AdVac® and MVA-BN® technology to contain a modified human cold virus and smallpox to help the body create a defense against Ebola.[6] Phase I trials for this vaccine began in January in the United Kingdom. The vaccine is administered in two doses spaced two months apart. The most exciting characteristic of this vaccine is the speed and scale with which it can be produced. Approximately 2 million doses of this vaccine will be available by the end of 2015, and 400,000 will be ready for use by the end of April.[7]
GP
Novarax Inc.
GP is administered in two increments spaced 3 weeks apart. One of its strongest characteristics is that it can be effectively stored for weeks at refrigerator temperatures, which contrasts from many vaccines that need to be kept as cold as -80 degrees Celsius.[8] This makes administering the vaccine in remote, warm areas much more cost-effective, enabling distribution on a much wider scale. Additionally, in animal tests it has shown to be effective in protecting against a lethal dose of the Ebola virus.[9] Human trials of the vaccine began in February, and preliminary results are likely to be gathered at the end of the second quarter of 2015.
---
[1] Ebola crisis: First major vaccine trials in Liberia. (2015, February 2). Retrieved March 20, 2015, from http://www.bbc.com/news/world-africa-31087727
[2] Ebola vaccine efficacy trial ready to launch in Guinea. (2015, March 5). Retrieved March 25, 2015, from http://www.who.int/mediacentre/news/releases/2015/ebola-vaccine-trial/en/
[3] Fact Sheet VSV-EBOV Canada's Experimental vaccine for Ebola. (2015, February 15). Retrieved March 25, 2015, from http://www.phac-aspc.gc.ca/id-mi/vsv-ebov-fs-eng.php
[4] Schnirring, L. (2014, November 24). NewLink, Merck deal boosts prospects for Ebola vaccine. Retrieved March 25, 2015, from http://www.cidrap.umn.edu/news-perspective/2014/11/newlink-merck-deal-boosts-prospects-ebola-vaccine
[5] Ebola vaccine cAd3-EBO raises hopes in first trial. (2014, November 27). Retrieved March 25, 2015, from http://www.dw.de/ebola-vaccine-cad3-ebo-raises-hopes-in-first-trial/a-18092605
[6] Johnson & Johnson announces start of phase 1 Ebola vaccine. (2015, January 6). Retrieved March 25, 2015, from http://www.janssenbelgium.be/en/science/johnson-johnson-announces-start-of-phase-1-ebola-vaccine
[7] Gholipour, B. (2015, January 8). Ebola Vaccines: Here's a Look at the 3 Front-Runners. Retrieved March 20, 2015, from http://www.livescience.com/49384-ebola-vaccines-frontrunners.html
[8] Grover, N. (2015, February 12). Novavax starts Ebola vaccine trial in humans. Retrieved March 20, 2015, from http://www.reuters.com/article/2015/02/12/us-health-ebola-novavax-idUSKBN0LG1NX20150212
[9] Malone, M. (2015, February 12). Novarax starts human vaccine trial. Retrieved March 25, 2015, from http://www.ebolainfo.org/novarax-starts-human-vaccine-trial_topic31997.html
---
About the Author

Daniel J. Rehal, President of Vision2Voice, thoroughly understands the pharmaceutical industry from the ground floor up. By ascending the ranks at Merck to his global responsibilities at Takeda, Dan has significant experience in both marketing and sales roles supporting a multitude of pharmaceutical brands as an award-winning Sales Representative, Training Manager, District Manager, Senior Product Manager, and Marketing Director.
Other Posts You Might be Interested In
No Articles Found...
Comments
Leave a comment